Nordstrom Rack Mayfair Collection

Wauwatosa
LOCATION HOURS
Day of the Week
Hours
Monday

10:00 AM

-

9:00 PM

Tuesday

10:00 AM

-

9:00 PM

Wednesday

10:00 AM

-

9:00 PM

Thursday

10:00 AM

-

9:00 PM

Friday

10:00 AM

-

9:00 PM

Saturday

10:00 AM

-

9:00 PM

Sunday

11:00 AM

-

7:00 PM
Featured Services
Ship to Store

Shop online and pick up eligible orders in-store.

Free Online Returns

Don't love it? Return your online Nordstrom or Nordstrom Rack purchase in-store. It's fast and easy.

Contactless Payment

Now use tap-to-pay and digital wallet at checkout.
Recent Reviews for Nordstrom Rack Wauwatosa
1 out of 5.0
(1 Review)
1 out of 5

Very disappointing experience! I bought a pair of boots for my daughter for $69.97 plus tax on October 27. The boots tore off and fell apart in January. When I took them back (on Jan 23) to Nordstrom Rack,they said their return policy is only for unworn items and it is for 60 days only. And After a long and a very irritating conversation, they agreed to take the boots back from the lowest price they sold which is $44.44 and they gave me a store credit for it. When I got in touch with the manufacturer of those boots, manufacturing company said their boots have a warranty of 6 months and Nordstrom Rack should have refunded me the whole amount. We had a similar experience with a winter coat that I bought for $126.97 plus tax from Nordstrom Rack and its zipper broke and it became unusable. they took it back for $95.23 On top of all these, I felt very humiliated when the store manager shook her finger at me like I am a small kid in a threatening way and said "We are doing it only for this once! IF you come here again with a product that you bought 60 days ago,we will not return or do anything about it!" So yes, this is my experience . I have store credit now but I definitely do not want to step in that shop again. I sent an email to Nordstrom about it and they told me to get in touch with Nordstrom Rack. I could not find an email on the web and I do not want to go to that store again. So I am writing my review here. I hope people read it and think twice before they buy anything from Nordstrom Rack -Mayfair Collection!!!

Response from Nordstrom Rack Mayfair Collection

March 16, 2020

Hi Vesile, thank you for taking time to leave a response. We're so sorry for the frustration you have experienced during your recent visits. We take customer feedback very seriously and will use what you've shared to improve. If you would like someone to follow up, please send us an email to dgtlstrrvwsmb@nordstrom.com. Thank you. -Janine
Nordstrom Rack App
Shop and save
on the brands you love - anytime, anywhere.
Available for iPhone, iPad & Android devices
About Nordstrom Rack
We're all about delivering great brands at great prices—you'll find up to 70% off in our
Women's
,
Shoes
,
Handbags & Accessories
,
Designer
,
Men's
,
Kids'
,
Beauty
&
Home
departments. Plus, many of the brands offered at Nordstrom Rack are the same in-demand brands you'll find at Nordstrom:
Nike
,
Birkenstock
,
Sam Edelman
,
Calvin Klein
,
Cole Haan
,
Marc Jacobs
,
Madewell
,
Vince
,
New Balance
and more.
New trends, styles and staples are delivered weekly, and you'll also find the very best deals on gifts for every occasion. No matter how you shop, expect the joy of discovery—plus the rush that comes from paying less and scoring more. Sound good? Check us out. And if you're already a loyal customer, thanks for shopping with us!
Nordstrom Rack has been serving customers for over 40 years. Please visit our store in Wauwatosa at 11500 West Burleigh St or give us a call at (414) 944-6350.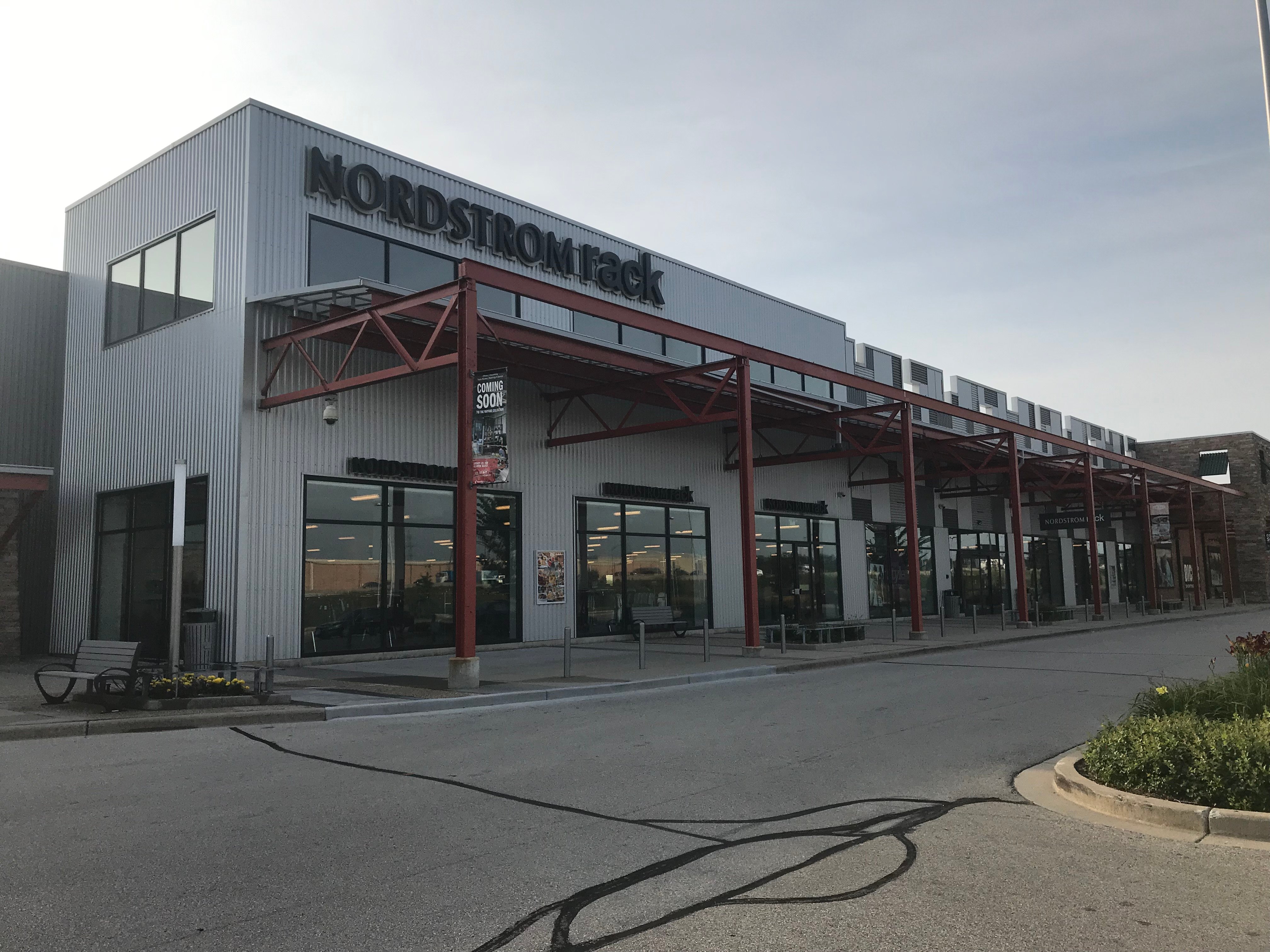 Services Available
Online Returns
Nordstrom Returns
Tailoring & Alterations
Annual Events
Clear The Rack
New Arrivals
New Markdowns
Home Sale
Departments
Accessories
Active
At Home
Career
Casual
Coats
Contemporary
Designer Shoes
Dresses
Junior
Kids
Kids Shoes
Men
Mens Shoes
Petite Sizes
Plus Sizes
Women's Shoes
Top Brands
Nike
Cole Haan
adidas
Joe's Jeans
Madewell