Nordstrom Rack Glendale Fashion Center

Glendale
LOCATION HOURS
Day of the Week
Hours
Monday

10:00 AM

-

9:00 PM

Tuesday

10:00 AM

-

9:00 PM

Wednesday

10:00 AM

-

9:00 PM

Thursday

10:00 AM

-

9:00 PM

Friday

10:00 AM

-

9:00 PM

Saturday

10:00 AM

-

9:00 PM

Sunday

10:00 AM

-

8:00 PM
Featured Categories at Nordstrom Rack
DRESSES

Maxi to mini, shift to sheath. We have dresses in all silhouettes and sizes as well as stylish jumpsuits and rompers.

SHOES

Classic pumps, trending sneakers and everything in between. Our selection ranges from designer finds to the latest in casual footwear.

HANDBAGS

We carry the biggest names in handbags and styles for everywhere: versatile crossbodies, work totes, chic clutches and more.

SUNGLASSES

The shades of the season and the best brands under the sun. Find aviators, round frames and more top sellers.
Recent Reviews for Nordstrom Rack Glendale
1 out of 5.0
(1 Review)
1 out of 5

Hello, I visited your store yesterday (2/19) around noon. I am a trans women in the very early stages of my transition, so if you saw me you'd say I was male. I went to your store in order to pick out some jeans, shopping online for me is extremely for sizing reasons, so trying on clothes in a store is both parts necessary and also extremely anxiety inducing. "I look like a boy, but I am trying on women's clothes, so which dressing room should I choose?" Most other department stores do not care which one I choose, I was also with my girlfriend so it seemed like it would not be a big issue to use the women's dressing room. I went into the room, tried on my first pair of pants and opened the door to see what my girlfriend thought, when all of a sudden an employee of you're store saw me and was extremely rude, hurtful and ignorant.

Loud enough for everyone to hear, she said repeatedly, "excuse me, men aren't allowed in the women's dressing room. We can't have men in here, you need to leave right now and wait outside, men aren't allowed in here."

I'm not writing to disagree with your policy, but while I look like a man, I was in the women's dressing room trying on women's pants. What I am asking is to inform your staff about trans people and just how difficult it is for them to get the courage to go to a store and try on clothes that they need to feel like themselves. There was a way to handle that situation with humanity and class that was totally absent from our interaction. You're staff needs to know how to approach a person in those situations and Talk to them like a person and not some kind of vagrant. I should be able to use whatever dressing room I wish, but if I am not able to, a subtle handling needs to take place. If a "man" is trying on "women's" clothes in a "women's" dressing room, then chances are they are trans/non-binary. I'd say you should let them choose whatever changing room they want, but if that is not your police then you really need to know how to
Address the situation.

I will not be returning to your store, and I'd like a Response that this situation is going to be handled or else I will be posting on your yelp page, which I still
Might do. I'd like to hear how you plan to handle these situations in a timely manner.

Thank you for your time,

Sophie

Response from Nordstrom Rack Glendale Fashion Center

February 21, 2020

We're sorry for any disappointment during your visit with us, Sophie. If you would like to share any additional feedback, please send us an email to dgtlstrrvwsmb@nordstrom.com. We can certainly look into the further with you.-Laura
Nordstrom Rack App
Shop and save
on the brands you love - anytime, anywhere.
Available for iPhone, iPad & Android devices
About Nordstrom Rack
Looking to save on clothing, accessories, beauty and home décor from your favorite brands? Come visit Nordstrom Rack and find great deals in these departments:
Women's
,
Shoes
,
Beauty
,
Mens
,
Kids
,
Bags & Accessories
. From the latest trends to must-have essentials, you can find everything you're looking for at amazing prices. Nordstrom Rack features styles from
Nike
,
adidas
,
Joe's Jeans
,
Calvin Klein
,
Madewell
,
Zella
and more!
Nordstrom Rack has been serving customers for over 40 years, offering many of the same brands and trends as Nordstrom for less. Please visit our store in Glendale at 227 N Glendale Ave or give us a call at (818) 240-2404.
We are located at the corner of Glendale Blvd and Wilson St.
Landmarks Nearby:
Rose Bowl.
Additional Stores Nearby:
PetCo, Michaels, TJmax, Famous footwear, Ross, Ralphs.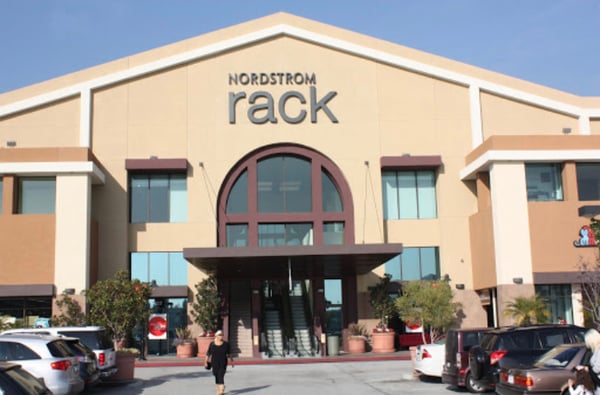 Services Available
Online Returns
Nordstrom Returns
Tailoring & Alterations
Annual Events
Clear The Rack
White Sale
New Arrivals
New Markdowns
Departments
Accessories
Active
At Home
Career
Casual
Coats
Contemporary
Designer Shoes
Dresses
Junior
Kids
Kids Shoes
Men
Mens Shoes
Petite Sizes
Plus Sizes
Women's Shoes